Determining which woodworking projects sell is a function of two things. The first is consumer demand, which is asking if we are creating something of (perceived) value and purpose.
Woodworking projects that sell is not a new concept. The woodworking business has been around for centuries. If you are a woodworker who wishes to make your craft into a profitable venture, you need to identify a demand and add value to those who buy your products. A suitable woodworking idea should be functional as well.
What is the finished woodworking project's purpose? The objective is surely to create value for people. Meeting the demand that exists in the world is vital. However, there may be people who do not know what they might want if they were suddenly presented with that option.
This leads us to the second idea to consider for determining woodworking projects that sell—marketing. Art is an especially interesting example because it is hard to place a dollar value or determine the demand for art.
Additionally, someone who appreciates having something aesthetically pleasing or beautiful in their home is not going to have an exact idea of the artwork in their mind before discovering it and deciding that they want it there.
They see a unique work of art, and then, at that moment, decide that it would look great in their home.
The artwork consumer expects the artist to show them great art; then, if they like it, they buy it. We can ask people what they want and make it, or build something they may realize they want after it is built. Art is an interesting example of unpredicted consumer demand.
Wood Projects That Sell
As a woodworker, you may be often challenged for finding good project ideas. In a bid to help you put your best foot forward, we have carefully curated 34 woodworking projects that sell.
Adirondack Chairs
These classic wooden chairs never go out of style. The iconic wooden slatted chair can be found sitting on the decks of many summer cabins and cottages. The plans are relatively easy and these can be cranked out in high volume.
You could display them in your yard with a for sale sign on or take them to fairs or craft shows. While you can find cheap commercial ones, people will pay more for hand-crafted chairs especially if they are well-finished.
Ready to build one? Click here to see the best kinds of wood for Adirondack chairs.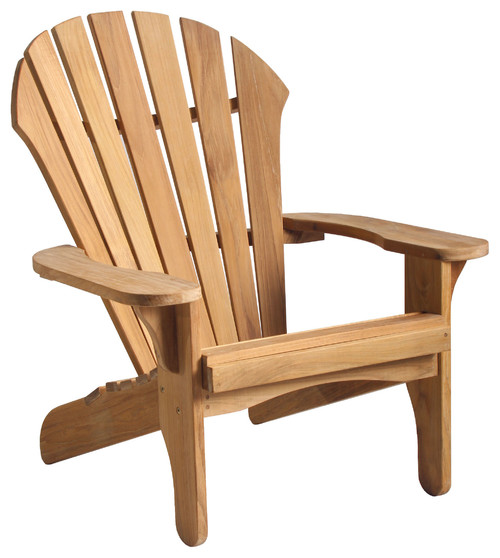 Just for comparison people will pay quite a bit more for this Adirondack chair, partly because it's made from Douglas Fir.
Many people would pay even more for one made by a local woodworker. Adding a built-in ottoman or leg rest as that one has will help raise the value – or sell it separately as an add-on to boost your profits.
Making a double version, like this one below, is another way to make more sales since it's a more unique item for couples, and as a wedding gift.  If you learn some basic wood-burning techniques you could also offer personalization.
For example, some families order these for a memorial bench (with an inspirational quote or just the person's name and dates). The ability to customize your woodworking is another advantage that a local craftsman has over big stores.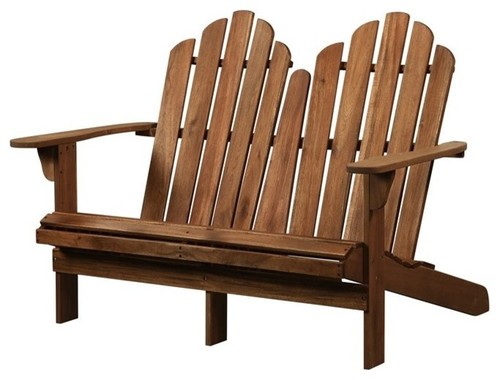 Bedside Cabinets / Night Stand
Relatively simple to build.  Find some vintage knobs to make them unique. Lots of people are dying for a more creative take on the standard IKEA-style bedside furniture made out of cheap particle-board.
You could use highly finished wood or a more rustic look using reclaimed wood. These would be perfect for country houses or cabins depending on what your local market is looking for.
Bed Headboard
Headboards are a very straightforward woodworking project. Reclaimed and sustainable woods are trending, one easy way to make them is to shop at flea markets and farm or estate sales. An old wooden barn door or farmhouse siding can make a great headboard with very little added work.
Benches
Wooden benches are great for backyards, patios, or even in front of local stores. There's always the chance of selling these in sets for public spaces or places that need multiple benches (outdoor shopping area, apartment complex, local park & Rec. order).
Marketing idea – start with one, offer to a local ice-cream shop for outdoor seating in front of their shop, put a small metal plaque in the center with "Made by local woodworker (your name) and contact number" – free advertising for your business in high traffic spot.
Bird Feeders
Super a simple design that sells. These are somewhat seasonal but the birdwatching trend has no signs of stopping. You could start with a simple design like this one here and always expand into other designs.
It is low cost, and you can re-use the plan over and over. Simply changing the type of wood, painting, or staining can give it a whole new look. If you are looking for design ideas that sell (and the prices you could charge) check the prices of wooden bird feeders here for reference.
Birdhouses
Going with the bird theme, many bird-lovers will buy feeders and houses off of you so it's a good way to cross-sell your wood projects to the same niche. These are simple with pitch roofs, a stick perch, and a single hole.
The options are endless, with multi-level houses and different shapes and sizes for different species of birds but this classic design is a good starting point. Some of the more elaborate and unique ones go for over $100.
Ready to build one? See the best kinds of wood for birdhouses.
Bottle Caddy
Microbeers and homebrewing are trending. Beer lovers that take the time to make their own beer don't necessarily want to store their bottles in a cardboard 6-pack box or plastic bottle rack.  A stylish-looking wooden bottle caddy can easily be marketed to brewmeisters or friends and family looking for a perfect gift.
Coat Racks
Talk about an easy project! A nice piece of wood and some vintage coat hooks. You can find the hooks at garage sales or reclaim them from bathroom remodels. This project is very low cost, takes very little time to make and sells well.
You can use different kinds of reclaimed wood to make them unique or play around with different stains or finishes. Mix and match hooks on the same coat rack for an eclectic look. Considering what these go for online, the profit margin can be quite good.
Cat Houses
People spend a ton of money on their pets and cats are no exception. At last count, Americans spent over 70 Billion a year on pet products! Cat caves, shelters, trees, scratch poles – the ideas are endless.
Mix wood with carpet and other scratchable materials to make durable and practical products for cats. Surf around online and you'll see some of the best-selling wooden cat houses, condos, and other shelters to brainstorm ideas of what you can make.
Chairs
Furniture making is definitely not the easiest of skills. We're talking higher-end woodworking but it is something even a beginner can aspire to and some chairs are easier than others to start with.
Large, chunky, notched log outdoor furniture takes less precision and is more forgiving. You can make rustic-looking chairs that look and feel solid without having to have high-end finishing skills to make chairs like the ones pictured above.
Chests
Check out the price of this wooden chest. You may be surprised how much people are willing to pay for well-crafted wooden chests especially if they are locally made. Pick up some vintage metal handles and edging along with the right type of nails to fit the look and you'll have a nice-looking piece.
A little extra work such as lining the inside with linen or canvas, old leather straps, and smaller interior boxes or drawers and you could sell an even more expensive version.
Chicken Coop
Urban farming is taking off! Even before the pandemic, we were seeing more and more chicken coops in the city. So much so that we even wrote an article on which kinds of wood were best for chicken coops.
The materials are inexpensive – woods such as fir or pine, asphalt roofing shingles, and chicken wire are the main materials needed. If you are marketing to urban farmers or hobbyists you can double down and make a rabbit hutch (see below). With basically the same materials you can possibly get multiple sales from the same customer.
Coffee Tables
Every home needs a coffee table or an equivalent. Since many people go for a rectangular table to go in front of the sofa, it's an easy shape to work with. Simple corner joints and a decent wood for tabletops and you've got yourself a simple table.
If you're more ambitious the possibilities are endless. Lower shelves drawers or even a lift-top table with hidden storage would fetch more money. But obviously, that's a more difficult woodworking project.
Cutting Boards
Pick a good wood for your cutting board and decide on the dimensions and you've got your next easy project. Mixing different tones of wood, including hollowed-out handles or personalizing with wood engraving are all ways to raise your prices and appeal to a more demanding clientele.
Vintage dollhouses are coming back into style especially as parents look for creative ways to get their kids off the screen and back to the basics of play. The recent pandemic has also left people with tons of time on their hands at home.
While mom and dad are doing DIY, a dollhouse is a great way for kids to mimic them and learn to decorate and care for their dolls and stuff. Parents will also pay a crazy amount for an elaborate dollhouse and all of the accessories.
If you are meticulous and can make miniature furniture that is true to scale you can make good money and have repeat customers coming back to you. Creating a line of dollhouse furniture or even taking orders for custom miniature furniture is a whole niche on its own.
Dog Houses
More and more Americans are buying pets. In 2020 63.4 million households had a total of almost 90 million dogs! Many of those dogs end up living outside, either because the breed is more suited for the outdoors or just to give them more room to move around.
People love their pets and will spend a surprising amount on their dogs – on average almost $1,400 per year – and part of that total is on a doghouse.  Outdoor wood, rust-proof screws or nails, and a solid roof are key.
The shape should be made so that wind, snow, and rain do not get inside, and the door opening needs to be strategically designed. But there are plenty of project plans for doghouses available online.
Picture Frames
Wooden picture frames are a great starter project and actually one of the first things I made in my high-school shop class. You need a basic understanding of joints and making square angles but other than that it's not particularly difficult.
You'll need plenty of decent woodworking clamps to hold the project together while the wood glue dries and sets. If you're looking at making framed mirrors it's slightly more complicated since you need to source and handle mirror glass  – and figure out a way to safely ship your finished project – but these can also be good items to sell.
Hammocks
Backyard hammocks continue to be popular and while simple, compact camping hammocks do not involve any wood – people still love the classic look of a nice wooden hammock stand.
The one challenge to this project might be the cost of sourcing nice-looking wood that is also resistant to rot and weather but the payoff could be worth it as people will pay a handsome sum for hammock stands like the one in the image Amazon.
You'll notice many of the designs are very similar so it would be a difficult project to reverse-engineer.
Humidor
Cigars! Love them or hate them – they do have a loyal following. The good ones are also expensive and cigar aficionados will pay top dollar for a good humidor, or cigar box, that will keep them until it's time to smoke them.
Many of these use cedar. This job is slightly more complex- you'll need more high-end skills and precision to make the box totally square, and it will need to have a premium look to match the expensive contents.
Don't be thrown off by complicated-looking dial – or hygrometer like the one featured above. They are relatively affordable and available online (check on Amazon).
Knife Blocks
Storing knives in the kitchen is always an issue. Kitchen knives are things that we receive as gifts or buy on a whim. Many of them end up stuffed in drawers, getting nicked and damaged. And, the most annoying thing is not to have your favorite knives at arm's reach.
An easy-to-make knife block will add value to anyone's kitchen. You can use some fine wood like maple or walnut for the best finish. The best part is that the design is simple. It doesn't cost a bomb in material, and you'll end up with a tidy bit of profit for each knife block you sell.
Mirrors
No one can ever have enough mirrors in their home – you'll even find them in restrooms! If you browse the internet, you will see several designs of mirrors that you can make using different types of wood.
Your mirror can be a picture frame type that hangs on the wall. Or, you can be innovative and make an adjustable one that you can angulate towards where you are standing. Then, you can go a step further and add a little box or drawer to store knick-knacks for him and her to use while getting ready for a night on the town!
You have a variety of choices when it comes to joining the different parts together. Click HERE to know about different types of woodworking joints. Remember to buy a good quality mirror, and make your project to fit the mirror dimensions.
Music Boxes
At first glance, this project might seem way too difficult because of the music but luckily you can find affordable hand crank mechanisms like this on Amazon that come in a wide variety of tunes from "You Are My Sunshine" to "Twinkle Twinkle Little Star". But the possibilities are endless.
You could buy a "Jingle Bells" crank mechanism and decorate the box for the holidays. Or, buy one with the "Wedding March" tune and then engrave the wood with the bride and groom's names and wedding date.
So, the project can be broken down into simple parts – making the wood box with a hole for the crank handle. Buy the crank mechanism and then do some additional personalization like engraving on the box to attract more customers to crank up your profits.
Planters
Wood Outdoor Planter Boxes like this one are pretty simple to make. You can use any kind of wood that is good for outdoor furniture and then finish it with some outdoor sealant. The boxes could be custom-made for local customers to fit a specific length and/or width to fit their patio or deck.
To simplify the project and reduce your costs, you could repurpose pallets or reclaim local wood. A related project would be to sell raised garden beds to local gardeners. While these are relatively easy to make, many people don't want to bother building them and buy them readymade. Cedar is a good choice of wood to make raised beds.
Playhouses
A playhouse is a kid's dream come true. With the countless types of playhouses designs available, you can make a simple or elaborate one depending on your budget and time at your disposal.
Building a playhouse brings joy not only to the kids who end up playing in it but also to the one who makes it.
When you start building a playhouse, you will find that you keep on adding things like a window here, a set of shelves there – the list is endless! Whatever design you use, be assured that the kids are going to love it!
Rabbit Houses
People with rabbits are always looking for better homes for their bunnies. Making a rabbit house is also a bit ambitious like making a kid's playhouse. But it is very rewarding, especially when you see happy rabbit owners and their pets with the rabbit house that you make.
The two important considerations that you need to make are that the wood shouldn't be harmful to the rabbits, and it should be easy to clean. For example, a removable roof that opens like a lid is a good idea.
Wooden Racks
Wooden racks are a very generalized category in woodworking items. A wooden rack can be something to hang clothes and place hats or shoes on it. You can also make racks to put kitchen items on like for example, a spice rack.
You can make a rack like the one in the image above which is a tall frame with a few shelves made of wooden slats. Or, you can make one that has broad, wooden shelves. Be a bit creative in designing your wooden racks to add variety to the different models, to suit the different tastes of the people who buy them.
Wooden Shelves
When we think of wall shelves, we picture planks of wood stacked horizontally against a wall, maintaining a space between each one to place objects. However, many designs are doing the rounds on the internet today, so have a look at a few to get an idea of what to make.
Making shelves is more design and less actual installation work. If you can innovatively present your shelves, people will be more than happy to buy them from you.
Wooden Signs
We get handmade wooden signs in various shapes and sizes. The uses are limitless and we use them indoors and outdoors. You might see them as decorations, or they may serve to inform people or give them directions.
There is a lot of creativity involved in making and painting wooden signs, so a lot depends on how you take it forward. You can create different styles by either painting signs or cutting letters and shapes out of wood and sticking them on the signboards.
Squirrel Den Box
Squirrels are not always welcome in gardens because they are pests, and cause a lot of destruction. A good way of restricting the movements of squirrels in a garden is to give them a place of their own – a squirrel house.
A squirrel house is a lot like a birdhouse with certain modifications. It is a very satisfying project, and you can get numerous designs from the internet. Make a few samples and send them around to people with gardens. You should be able to get some good orders.
The added advantage of having a squirrel house in a garden is that the homeowners get to watch the antics of the squirrels. It can be quite entertaining, as long as they're not destroying their plants and vegetables!
Stools
When you have some time on your hands, you could probably spend it making stools. Go through woodworking catalogs or browse the internet for some good stool designs.
There are several variations in the types of stools that you can make like kitchen stools, barstools, and footstools. You can also make three-legged stools which are a refreshing variation to the traditional four-legged type. Experiment with different types of wood and finish to expand your selection.
Wooden Trays
Here's a great idea for a simple woodworking project that you can cut up and knock together in a couple of hours. Yes, you guessed it – a wooden tray! See the image above of a wooden tray made of rustic wood. It is not finished but there is a coating of sealer on the wood to protect it from water.
You can choose to apply a finish but then, the project may take a bit longer. Browse the internet to get some suitable handles to screw on. You can use pretty much any type of wood but ensure that it is food-safe.
Wooden Toys
Wooden toys have been popular since time immemorial. Even today, many toys are made of wood, and children adore them. Some examples of wooden toys are tops, skittles, rocking horses, rattles, puzzles, animals, dolls, and building blocks.
Making wooden toys can be a very satisfying woodworking project. You will have as much fun making them as the children who finally play with them. Although we get toys made from synthetic materials like plastic and rubber, wooden toys remain a novelty.
The skill level required for making wooden toys remains from easy to difficult. There is something for woodworkers of varying skill levels. The main consideration while making wooden toys is the likelihood of small children putting them in their mouth and chewing on them, so you need to ensure that the wood and the finish is non-toxic.
Wagons
Wooden toy wagons make great gifts. Children of all ages love to play with toy wagons even in this digital age. Wooden wagons remind us of the cartoon strip Calvin & Hobbes where Calvin can be seen hurtling down hills and slopes with his best friend, the tiger called Hobbes.
When you make wooden wagons, make them strong enough to withstand a load of a couple of kids, because they ARE going to end up in it, hauling each other across the yard.
Wishing Wells
Here is a project that is fun while working and very satisfying once done. The toy wishing well can be about eight inches high, and children will make never-ending imaginary games for hours over it.
These are even popular with adults, where they may use them for holding flowers or a dry arrangement, or they can even serve as a planter. You can use almost any lumber that cuts well and looks good with perhaps a little bit of finish. Here again, your level of creativity will decide how attractive your project will look once done.
Additional Tips for Woodworking Project Ideas
In addition to the 34 woodworking ideas, we have listed here, given below are a few tips that you can use to generate woodworking ideas of your own:
Combining Technology, Function, and Wood
Additionally, there is something that only came into demand in the past 10 years. It came with the advent and widespread use of smartphones. It is a wooden smartphone holder, or display case. You can rest or sit your smartphone on it, so the phone is seated off the table. Your smartphone won't lie flat on it, which makes it easier to view and handle.
You can press buttons and view the screen without having to hold the smartphone. It would be at the angle of a laptop computer whose screen is positioned at a 45-60° angle. This is a great woodworking project that sells.
People probably don't even think about this, yet they would buy it. There are many examples of creating a novel or unique woodworking projects that sell. They may be functional, such as the cell phone holder for one's desk at home, or artistic; in both cases, most customers do not have such an item on their buy list because they don't realize it exists.
Some areas with more demand than supply would be woodworking projects that interface with technology. A computer monitor stand to bring the monitor slightly above eye level for health reasons is a good idea for a project.
As mentioned above, the cellphone (smartphone) holder that keeps the phone screen visible to the user at all times is valuable and people may not even know what they are missing.
Showing people quality and excellence can lead them to buy the woodworking project. Similarly, creating a work of art that is visually striking and appealing, will always be of value to people, for the energy or feelings it produces.
In the domain of art, it can be said that beauty lies in the eye of the beholder, so there can be woodwork art pieces that most people would not pay for, but others would love to own. This means the door opens for a wide range of possibilities for artistic woodworking projects that sell.
Look Around You
Focuson activities humans do and then create woodworking projects based around those activities. It will surely give you ideas for products that sell. Kitchenware, such as cutting boards, cabinets, drawers, various types of paper towel holders, or almost any kitchenware item, basket, or bin, are examples of woodworking projects that sell.
We can look at how people spend their time learning about woodworking projects that would sell. People spend time in their homes, and their homes have many rooms. Let us look at the bedroom.
We can create a dresser, which people use to store clothes in the drawers. Or a nightstand, a small table next to the bed people can rest a glass of water or a cellphone on is a useful thing to have. We can create a wooden bed frame with a headboard that has a narrow shelf where a person can set items on. Desks, tables, and chairs are all excellent examples of woodworking projects that sell.
Let's consider other activities people do. We could think about sports. The hardwood of a basketball court, which is an expensive and extensive project that uses specially designed wood materials, is one example of the endless ideas of woodworking projects that sell that we could build. Storage racks or chests for sporting equipment are other ideas of what you can make from wood.
Art in Our Lives
Artwork is an area that opens up all kinds of doors for the creative person. It does not need to have a functional purpose and can be in great demand. Most woodworking projects combine artistic and functional aspects. A mantlepiece which is a small narrow shelf on a wall in an open room in a home is a good example. On the underside of the mantlepiece, we could design natural art as part of it.
Almost any useful woodworking creation can be sold, so to make this a successful and profitable business, we have to consider the economics of the situation. The inputs, the tools, the wood, the woodshop itself, the educated and knowledgeable human, plus effort, time, and consistent daily progress, step by step, to complete the project, result in creating a product that has value for someone.
The possibilities are really endless. This is why it is so helpful to have a specific plan which serves as a guide to what we are creating and accomplishing in our woodworking projects. We have two options: Create something first, or ask someone what exactly they want, potentially taking an order, and then creating and completing the unique woodworking project and selling it to them.
Woodworking is fun and useful, so why do it for free? Creating value for another human and selling it at a market price is a great idea and plan; there is a demand for many wooden items, and it is a great way to share our skills when we share the product we created with the world. Being excellent at woodworking is a way to give back to the world.
Woodworking is an excellent craft to hone and master. Obtaining the knowledge of how to do this efficiently and profitably through a course is a great way to turn a woodworking dream into a reality. This site is an excellent resource for gaining knowledge about woodworking projects that sell.
Combining Beauty and Function
Household items are a great place to start when considering woodworking projects that sell. Recessed lights are a great idea for a woodworking project that sells. The wood blocks the light and redirects it downward so the wood can help create the perfect ambiance in a home.
This is where the woodworking craftsman can design the light to partially block more or less light to create a varying level of dimness depending on the intended or desired lighting effect.
Literally, every single item in the home can be considered and contemplated as an idea for a woodworking project. If people can use it, then there is demand, meaning this could be a woodworking project that sells.
What hobbies do people we know enjoy? Kids may like to pretend to fight with wooden rounded swords that look cool to them. Wooden shields can be built that resemble, or are exact replicas, copies of medieval swords and shields that knights used 1,000 years ago.
The possibilities are endless; we really are only limited by our imagination and woodworking is no exception. If we can think of an idea, we are halfway to completion; we then just have to execute the plan—we plan the work, and work the plan.
Building Furniture That is Durable and Beautiful
Well-built furniture, meaning solid furniture that won't collapse or break, will always be in demand. People who appreciate nature often choose wooden furniture for their own homes, and there is a high demand for this. A birdcage or animal pen could be wooden, and a dog bowl could also be wooden. Pet accessories are certainly woodworking projects that sell.
People love their pets, and a dog house could be wooden. If the dog spends time outdoors, giving the dog a dog house to spend time resting in is a good idea. Cat furniture could be built with wood and then carpet wrapped around it to complete the job.
We can get very creative in thinking of items people would pay for that we can create with woodworking skills, and of course, the tools and wood. A picnic basket could be wooden, window blinds are often wooden.
Boats for Recreational Purposes
The ships that crossed the Atlantic ocean 500 years ago were made of wood. Making a canoe or boat is a great project to take on. The joy of taking it in the water after completion would surely be gratifying in the most meaningful of ways—to construct something so useful and fun. Selling canoes or boats certainly have a consistent demand, so these uses of wood are certain projects that sell.
Products for Use Around the Home and Garden
When thinking about what sells, we can think of what a person experiences in life. When thinking about what sells, we can think of what a person experiences in life.  They might be a homeowner, and have a backyard. They probably like to go out there but do not enjoy the sun on them all the time.
Building a sort of shelter that blocks the sun is an example of a woodworking project that sells. This could be something like a gazebo; this structure can be somewhat simple, yet effective in blocking the sun. People pay good money for this as it adds value to their property.
Bookcases for inside the home are one of the best ideas for woodworking projects that sell. These bookcases look good with that beautiful natural wood inside the home. For the outside of the home, building a high-quality fence in the yard is of great value to people.
People want a nice new fence to protect their yard. So, whether the woodworking project is functional, artistic, or both, there are so many items that you can create and sell.
Wooden screens to partition a room can be artistic and functional at the same time. This is another great example of a woodworking project that would sell. A wall candle holder that hangs on the wall looks good and serves a purpose. Woodworking projects sell well because they combine art and function
Day-to-Day Use
Jewelry boxes and locked chests are other examples of woodworking projects that certainly sell. We can think about the life of a human being and consider their day-to-day activities, and then try to add value to each moment, considering what they do with that time in life.
Maybe they have exercise equipment at home, which is a relatively small item, and they want a medium or large-sized box for it. This is the same box that could be used for children's toys.
Creative use of wood could be something like a rolling pin or massage stick that people can roll over their lower leg muscles.  This is an excellent woodworking project that sells, as people value their health, and they can give themselves a massage, below the knees, every day for 5 or 10 minutes with this woodworking project that is identical to a  rolling pin which is, of course, made of wood.
A simple tool or tackle box for fishing is another idea.  These are niche ideas but are very common as well.  The broader the usage of the item by people, the greater the demand it will have, and the better it will sell, depending on supply and marketing. Having a new desk or cabinet adds an element that people especially value and will pay for. Shelves and organizers are going to be of great value to people.
Hanging a small wooden structure on the wall with a bungee cord going horizontally can be a place to hang sunglasses or electronic cables such as chargers and other cords, cables, or wires.  This is a great idea because it is not 100% wood.
It is combining the wooden base with the bungee cord to create the perfect home item; it is an organizer that has artistic merit—the wood can always look good so it is going to add value to the person's life.
Baby cradles and clocks are other examples of great applications of woodworking skills to create projects that sell.  A foosball table, a pool table, chess or checkers board, or even a ping pong table (table tennis) are all fine examples of woodworking projects that sell.
The hours of fun that could be had playing ping pong, with wooden paddles, on the wooden table, would add great value to people's lives.
Musical equipment such as a guitar or drums is further examples of the wide variety of amazing creations that can be created with woodworking skills.  The possibilities are only constrained by the range of activities humans engage in. In other words, with almost any activity humans enjoy, wood can play a role in directly adding value to their lives.
Conclusion
Many ideas have been listed here and the possibilities are as limitless as the human spirit. For anywhere there is a human activity, a woodworking craft can be used to add value to the human experience.
Woodworking is a business, a profession, and a creative outlet that allows people to express themselves through their craft. We are creating a work of art, or even better, a useful work of art. This is what most woodworking crafts and products are at their core.
These products are both useful and look good. Wood is inherently beautiful, so its visual appearance will always produce value because wood represents, and literally is, nature.
Bringing a natural element into one's life with a wood-crafted object is a great gift. People appreciate the beauty of wood; they might like the smell or appearance, or maybe the ideas and feelings that they experience from seeing the wood, as it reminds them of nature and it makes them happy.
Creating woodworking projects that sell lies at the intersection of the artistically beautiful, and the functional.