If you have a project making kitchen cabinets, you have to keep specific considerations in mind. Because of their distinct character and basic functionality, the art of making cabinets has even evolved into a different branch of woodworking called "cabinetry."
In this post, we take a closer look at the best wood for kitchen cabinets that you can use. Owing to the complex nature of kitchen cabinet construction, you may end up using a combination of woods for making them.
For instance, you might use one type of wood for the doors and another for making the frames. So, let's get right into the types of wood that you can use to build kitchen cabinets.
Best Types of Wood For Kitchen Cabinets
Maple
This hardwood comes in colors of almost white to a delicate cream color. Maple has a smooth, fine grain. The color and texture of this wood are such that you can use it to create different cabinetry styles, and you can vary the form of the door accordingly and match it with the surroundings.
Maple is easy to obtain and relatively easy to work with, making it a popular choice. You can either paint this wood or stain or varnish it to achieve some fantastic results.
Salient Features Of Maple          
Appearance: Creamy-white to a light brown or dark golden brown. Straight grain with a beautiful texture.
Durability: Extremely durable
Hardness: 1,450 (Janka hardness)
Density: 0.6-0.75 (103 Kg/M3)
Workability: Easy to work with
Cost: Expensive, but moderately-priced compared to other hardwoods
Oak
Oak is a hard and sturdy wood, and a popular choice for making kitchen cabinets, especially as it comes in a wide variety of colors. This wood makes some nice traditional modeled cabinets, but today some woodworkers are using it to create more contemporary designs.
The fact that oak is more readily available and cheaper than rift oak makes it a popular choice. The traditional choice for the surface of oak cabinets used to be to stain it. However, today with advancements in wood paint technology, some interesting paint finishes are also emerging.
Salient Features Of Oak
Appearance: Medium to dark brown
Durability: Extremely durable if maintained properly
Hardness: 1290 (Janka hardness)
Density: 0.6-0.9 (103 Kg/M3)
Workability: Responds well to both hand and machine tools
Cost: Expensive in most regions of the US because it's considered imported
Cherry
Cherry wood comes under the head of hardwoods, but it is a much softer wood in its class. Due to its vibrant color that tends to darken with age and easy workability, it tends to appear in high-end woodworking projects. The timeless, classic look that cherry imparts makes it a popular choice for kitchen cabinets.
Salient Features Of Cherry Wood
Appearance: Reddish-Brown
Durability: Susceptible to dents and scratches with rough use
Hardness: 950 (Janka hardness)
Density: 0.38-0.56 (103 Kg/M3)
Workability: Easy to work with, glues well and easily takes screws and nails
Cost: Moderately expensive to quite expensive
Walnut
Here's another hardwood that has an elegant, straight grain and rich chocolaty-brown, that is unique only to walnut. This wood can be used in different styles that may vary from traditional and transitional to contemporary due to the deep brown appearance of the wood.
Walnut is easy to work with and only needs a light finish to bring out the grain's best color variations. You can use a darker finish for a more classic look. All this makes walnut one of the most preferred choices for building kitchen cabinets.
Salient Features Of Walnut
Appearance: Dark brown with black streaks
Durability: Highly durable
Hardness: 1,010 (Janka hardness)
Density: 0.49-0.7 (103 Kg/M3)
Workability: Easy to work depending on the grain
Cost: Expensive
Clear Alder
The uniform, fine grain of this rather softwood gives it a fine appearance. The light tan to the reddish-brown color of clear alder makes it similar to cherry, but it is much softer. This wood finds extensive use for creating distressed and antiqued finishes.
Unlike cherry wood, alder becomes lighter with exposure to sunlight and as it ages. You can use this wood to create traditional and transitional styles. Being easy to work with and relatively cheaper than cherry makes it a viable option for the latter type of wood.
Salient Features Of Clear Alder
Appearance: Light brown with a fine grain and no knots
Durability: Moderately durable
Hardness: 590 (Janka hardness)
Density: 0.4-0.7 (103 Kg/M3)
Workability: Easier to work with than cherry wood
Cost: Cheaper than cherry wood
Knotty Alder
As the name suggests, knotty alder is similar to clear alder but has knots throughout the wood. It is a rather softwood, and because of the knots, nicks, and dents, the wood has a rustic look.
Although this wood's popularity has declined over the years, it is still a popular choice for those who wish to create a distressed or worn finish. Another thing going for knotty alder is its easy availability.
Salient Features Of Knotty Alder
Appearance: Rugged, knotty finish
Durability: Highly durable
Hardness: 590 (Janka Hardness)
Density: 0.4-0.7 (103 Kg/M3)
Workability: Easy to work with by hand or machine. Takes nails and screws easily.
Cost: Moderately-priced
Rift Oak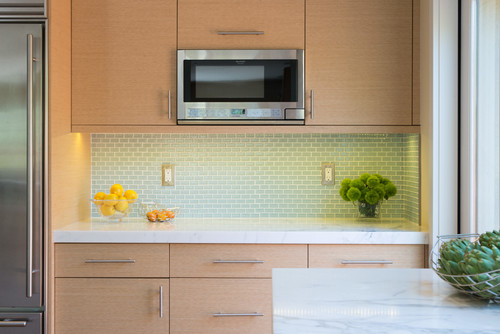 Rift oak has characteristics, linear grain, and the wood color may vary from beige to creamy tan. The grain pattern and color make this wood a popular choice for contemporary designs, but you cannot rule out traditional or transitional designs.
Rift oak is marginally more expensive than regular oak. This wood is easy to work with, and once suitably stained, the natural beauty of the wood stands out.
Salient Features Of Rift Oak 
Appearance: Fine, linear grain with color from beige to creamy tan.
Durability: Extremely durable
Hardness: 1290 (Janka hardness)
Density: 0.6-0.9 (103 Kg/M3)
Workability: Easy to work with
Cost: One of the more expensive varieties of hardwood
Some Useful Tips For Making Kitchen Cabinets
You need to realize that the color of wood varies according to the environment where it grows. Hence, you will never get a uniform consistency in wood for kitchen cabinets or, for that matter, in any wood. It is this variety that makes natural wood so appealing.
How you process and finish wood surfaces will define how the final product will look. You need to create something that is both appealing and functional.
Each type of wood has a unique set of features that can, in many instances, be combined to create a striking contrast. Again, it is how you put it all together and apply appropriate finishing touches to impart an artistic dimension to the whole project.
It is not just one single element, but the different elements that you need to consider. For example, the grain texture or mineral composition of individual pieces can create the final product's appearance. Once you consider all these factors, you can bring out the distinctive beauty that makes wooden cabinetry such a desirable art.
One final word worth mentioning is ultraviolet inhibitors. You can add these substances to the finishes to protect the surfaces to some extent from aging due to UV radiation from sunlight and fluorescent lighting. However, aging will ultimately occur, and it is species like alder, maple, and cherry that show up the effects of aging the fastest.
Conclusion
Now that you are more aware of the types of wood for kitchen cabinets, you will be in a better position to create some great ones. You will be able to make kitchen cabinets that look good once you know more about the different types of wood and what to expect from each type. That way your kitchen cabinets will last you for years to come.
Featured Image by mgattorna